About Me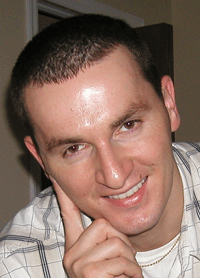 I'm a Software Engineer with 22+ years of experience
I have a Masters degree in Computer Science from NJIT
I'm a regular investor
I'm a loving husband (oh, yeah :-))
I'm a recent father of a boy
I love to travel
I love to read
I love to learn
I'm a Java/J2EE guy with interest in the latest open-source projects
I like to Do Software Right, that's why I want to be a Software Craftsman
Yes, that's me. :-) Read on for a little more detailed version, below.
Early days. I was born in Poland and migrated to U.S. when I was 15. I finished a middle school in Poland. I started Garfield High School (GHS) and graduated from it: Class of 1997.
College. After GHS, I got into New Jersey Institute of Technology, spent 4 years there, and got my B.S. in Computer Science and a minor in Mathematics. I decided to stay there for one more year to get my M.S. in Computer Science, Software Engineering Specialization.
Career. While in college, I worked for a small software company, Cybertel, as a consultant. Upon graduating from NJIT, I had close to 2 years of working experience. However, the company bankrupted around 9/11 (2001), so I had to find something else.
Fortunately, I didn't have to look for a long time, as I found another small software company, Sparta Systems. I spent two and a half years there. I decided it's time for a new challenge, time to change the environment, as well as time to say goodbye to an hour commute. I quit at the end of 2004.
From January 2005 to July 2005 I worked for a big company, Hertz. However, I did not like the big company bureaucracy and decided it is not for me. A great opportunity came up and it was a no brainer.
It is a well-known company around White Plains, NY and that's where I've been since then. We'll see how it goes, but things are looking brighter now and I'm feeling more confident in my abilities. We'll see.
Personal.
Wow! While still @ NJIT, in 1999, I found nice girl. Marta was her name. This was love that was deepening every year. We grew closer and closer every year. Eventually, after 3 years, knowing that we want to continue the great drive, we decided to move to the last step. In September 2003, we cemented the relationship: we got married!
So far so good! And hopefully things are going to continue to go in that direction.
Interests. Who am I? I'm a genius. :-) Yeah, right. (haha) I'm a software engineer, an investor, a life-long learner, and, now, a loving husband :-)))) To complicate things even more, I always want to be the best at what I do: I'm a perfectionist to some degree.
I think software should be crafted: written with care for humans to read (and computers second).
So my objective for life is simple: Live, learn, and have fun!
1/2007
© 2001-2023